Whether travelling on a month-long expedition or a two-day trek in the mountains, there are many factors to consider which can make or break a photo adventure.  Here are some tips on what to pack and photographic insights to help you achieve outstanding travel images.
If you have a travel itinerary, take a few moments to go over it from a photographic perspective.  Think about the kind of images you would like to shoot and visualize the final images on your wall. Then think about the gear you will need to achieve your vision.
1 – Packing the Right Gear for the Trip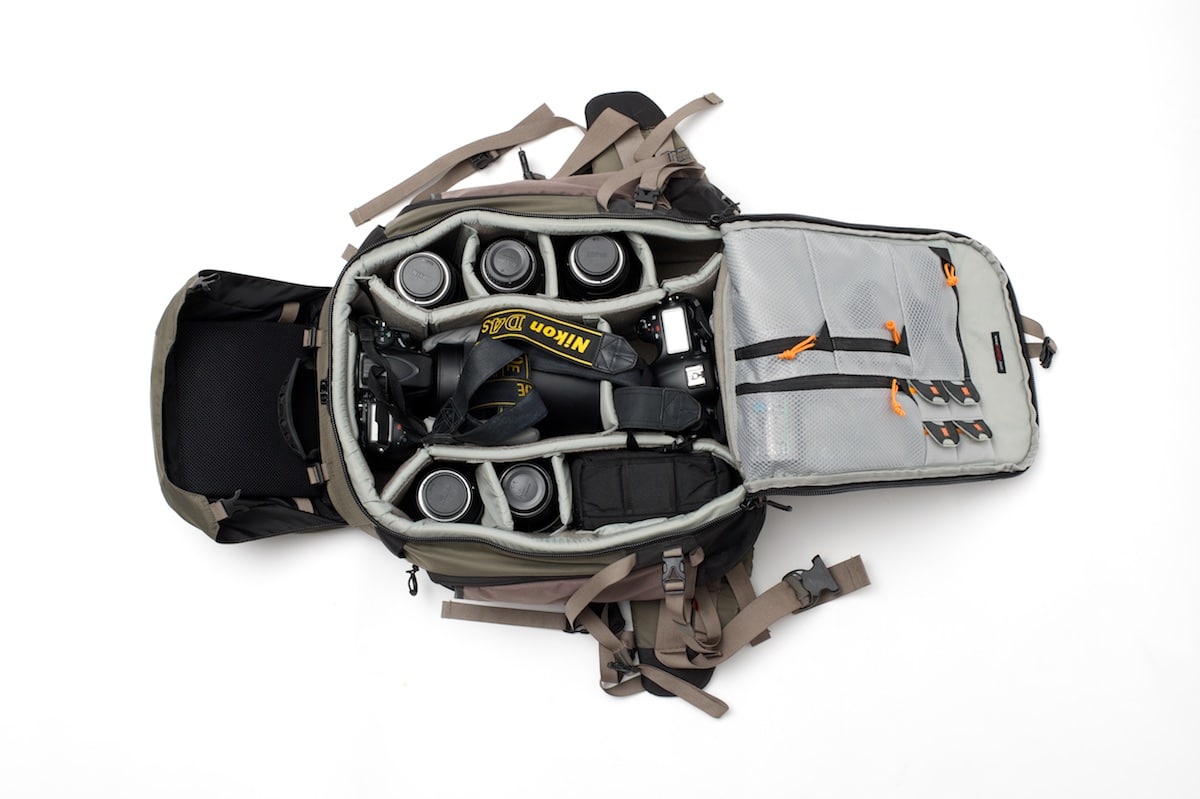 It is always a trade-off between having all the gear you want to bring, and what you will actually be able to carry with you. Personally, I always end up taking a little bit more than I need, and I lug it around just to make sure that I am covered for any photo op that presents itself.
The main camera body you bring should be one that feels right in your hands, and the camera that you are most comfortable with. Take the time to play with settings and read the manual before you go on a big trip so that you will be ready when that incredible shot comes into your viewfinder. When selecting a good travel camera, I would suggest one with good high ISO capabilities so you can capture great images in low light, this is essential if you want to capture hand-held sunrise/sunset images, and when you have to shoot in low-light locations where a tripod is not permitted. You might also consider bringing a smaller backup camera, or even a phone camera – just in case something goes wrong.  Zoom lenses can cover a range of focal lengths and are a great choice for travel, especially if they have vibration reduction capabilities.  The zoom lenses give you more composition options, and avoiding lens changes reduces the chance of getting dust on your digital sensor which can be frustrating when you are on the go.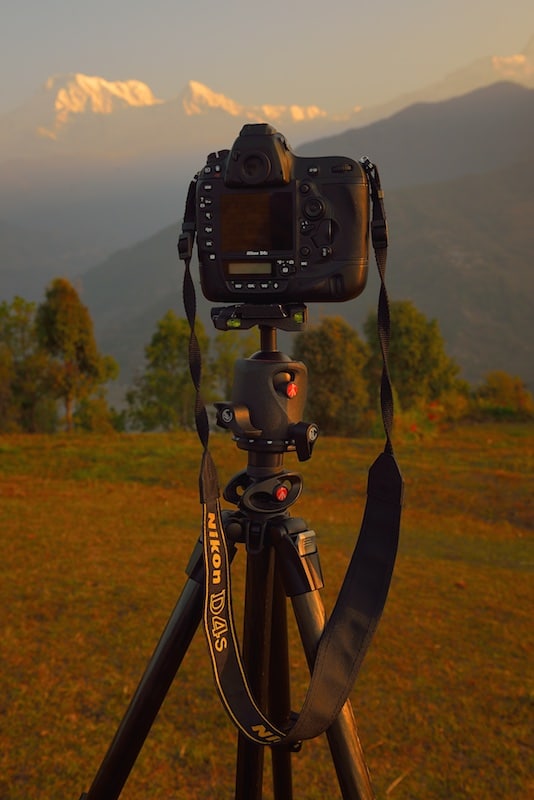 If you can bring a travel tripod like the compact lightweight and versatile carbon fibre models, you open up another realm of possibilities.  My fav is my Manfrotto 055CXPro4 Carbon with MH055MO-Q5 Ball head.  From time lapse images to long exposures that record movement in waves, star trails, and a range of night subjects, the tripod is essential for low light photography and light painting.  Even though a tripod can be frustrating to lug around, it can be a very necessary tool for getting outstanding travel images.
If you plan on shooting exposures longer than 30 seconds you will need to set your camera to bulb and use a remote trigger accessory like Nikon's MC-36 Remote Cord to set your desired exposure duration.  This is also a great tool to reduce camera vibration on any tripod exposures.  I also recommend packing a headlamp or flashlight if you are doing night shots. You can use it for some fun light painting, setting your focus distance, and finding your gear after a night shoot.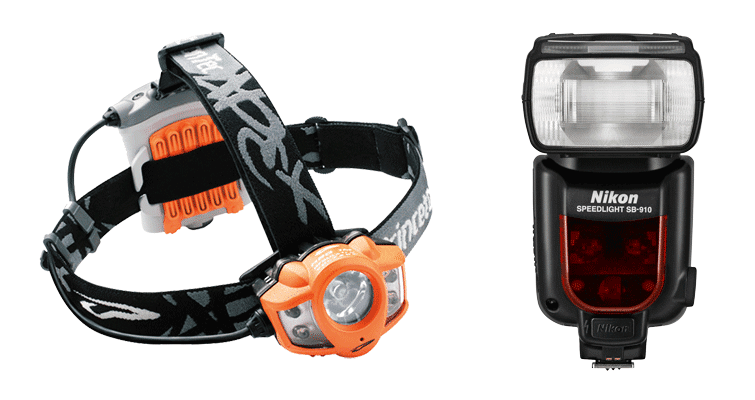 A simple round collapsible silver/white reflector can be a great asset if you plan on shooting portraits, and it is a great way to add light for macro photography.  A reflector is a very light weight addition to your gear, and you can get them in all sizes. I would suggest that you choose the largest reflector that can fold to fit into your camera bag. An easy travel tip for using a reflector is to ask someone to hold the reflector at about 45 degrees from the camera angle, and point it to redirect sunlight onto the subject. This usually makes for a beautiful portrait light source.
You might also bring a flash flash and I use it like the reflector to fill in light or soften shadows.  For this fill-flash technique I recommend setting the flash output to about -2EV so that it fills in the shadow, but doesn't overpower it.  Flash is also great to control the light on your subject while allowing you to expose for the background or sky.  With my Nikon SB-910 flash I usually keep the bulb diffuser on it to soften the light source. You can even use your flash to bounce light off your reflector for some more directional lighting.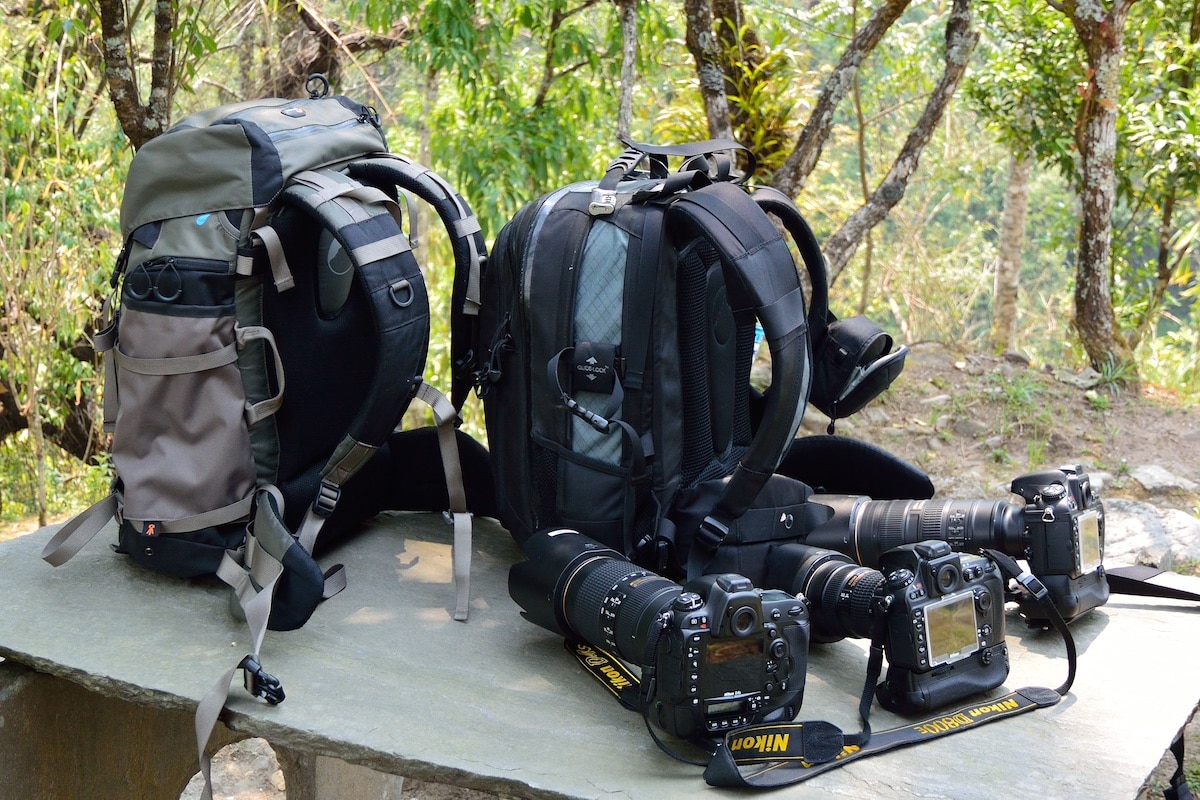 One of my main concerns when travelling is keeping my gear safe and protected while giving me the most functionality and comfort.  It is worth investing in a good camera bag or backpack.  My new favourite camera bag is a trekking-backpack design with all-weather features and is the maximum size that still fits carry-on luggage on an aircraft. I was recently trekking and biking through Nepal and I had to carry all my gear on my back for long days of activity. The photo backpack was amazingly comfortable and functional. It even had a built-in hydration system. Make sure it fits your back properly and has a waist belt to take the pressure on your back and balance it around your hips.
I recommend bringing a locking wide climbing carabiner, so that you can clip your pack to things to protect it from a quick grab theft. This is just a quick deterrent, but it has served me on all of my trips so far. You can also get a palm sized retractable lock.  Another thing I always pack is a Seal Line Dry Sack that I can sling over my shoulder – I put my SLR and lens in the Dry Sack if it is raining and I want to keep the camera dry but still have really quick access to it.
Always bring at least one extra battery and an extra battery charger if you have one, just in case. You may run into voltage issues at some point on your trip, so plan ahead and bring a suitable plug adapter. If your trip includes a lot of driving time I would definitely invest in a car charger, this has saved me many times when my assignments took me to remote destinations that had very limited or unreliable power.
7 – Remember the Memory Cards!
Bring enough storage.  There is nothing more frustrating than running out of storage when you are only half way through your trip!  I usually bring a laptop and a backup external hard drive that I put in a waterproof Pelican box, but if you don't want to bring a laptop, make sure you buy extra memory cards for your trip.  Even if they are cheaper or slower cards, you won't regret the purchase if it gives you the freedom to shoot without the worry of running out of space.
Finally, I recommend bringing a small emergency sensor cleaning kit just in case you get a big piece of dust on your sensor and it starts showing up in all of your images.  I use Visible Dust V-swabs and their VDust Plus cleaning liquid.  There are many instructional videos you can watch to learn how to clean your sensor – it is not difficult, but it helps to have a steady hand and a gentle touch.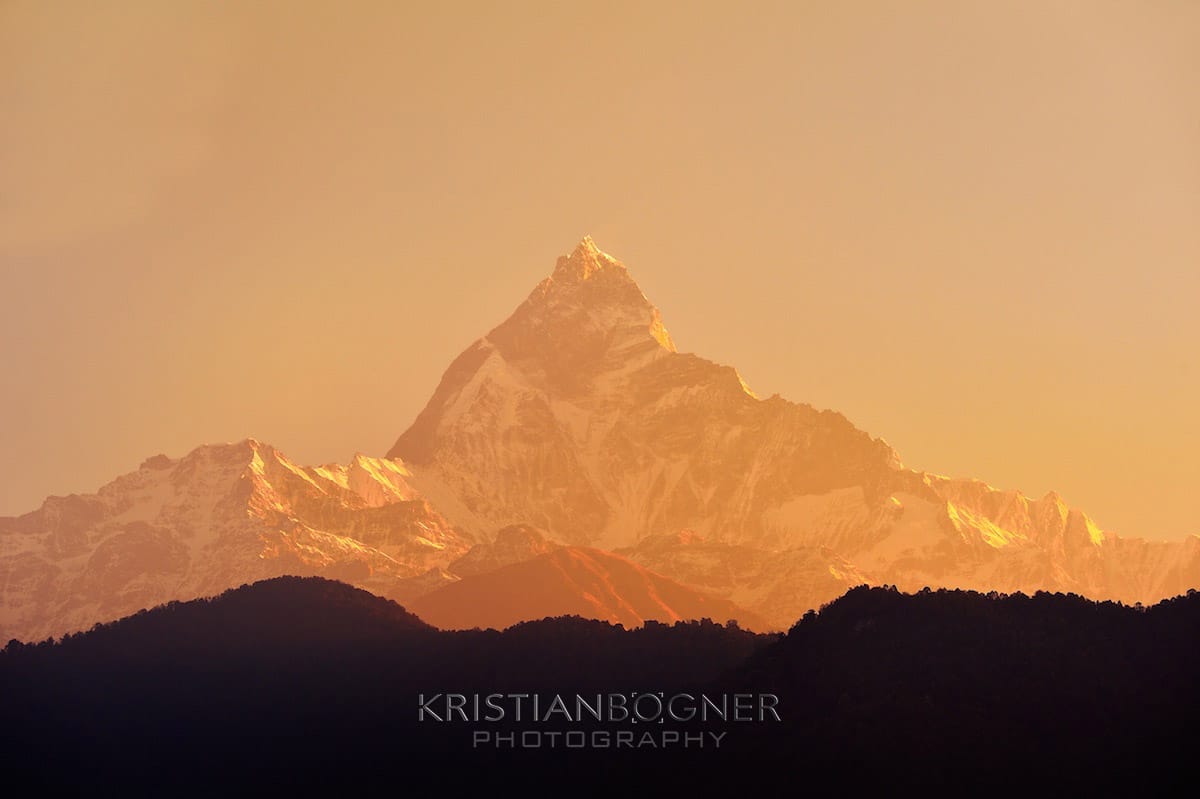 The best time to shoot is usually when the light is low and pleasing – these are the golden times around sunrise and sunset.  Set your alarm and get outside before sunrise to be ready for the ideal moment.  The warm light on buildings and landscapes, and the images of the world waking up can make for magical photographs.  Go for a walk through the streets of a village and see what you find. If you are not an early riser, you can always head back to bed after capturing an hour of the sweet light.
When you are travelling with a group it can sometimes be tough to stop and get outstanding images.  Always look for good locations for photo opportunities. Try to find a spot with a good vantage point, particularly around sunset, so that you can be near your group but still capture that amazing light.  Show your images to the others – when they get involved and see that they are included in the photos, they will be more patient as you take the time to line up the perfect shots.  You might even find them to be receptive when you ask them to help with some evening light painting.
Take time to experiment be creative with different camera settings and techniques.  Use this time to expand your technique toolkit.  Take a few test shots using different white balance settings, and try adjusting your in-camera saturation and picture controls to add extra sizzle to your images.  Shoot some artistic black and white images of selected subjects, especially people, using the monochrome RAW setting.  Remember that if you shoot RAW you can always go back to colour with software after the shoot. If you shoot JPEG, remember to switch back to colour after you experiment with the monochrome settings!
If you see an interesting person, don't be shy to ask for permission to photograph them.  Do it in a playful manner, usually a simple nod as you point to your camera will do the trick.  You will either receive a nod or pose in response, or they will waive their arms or run away.  If you photograph them and they hold out their hand to ask for money it can be a difficult situation.  After many years of seeing how this money transfer can ruin a village and cause people – especially children – to beg for money instead of pursuing their dreams and lives, I generally don't give money.  But I always take the time to show them the image and build a connection or bridge with them.  Sometimes I do slideshows for the villages in evenings or send prints to my subjects.  I always try to honour my subjects and reflect back to them their beauty and how I see them.  In the very rare event that a person wants money and is upset for any reason, I will show them the camera as I delete the photograph.  So that's the worst thing that could happen which isn't a big issue. But generally, you make some amazing connections on a trip with the people you shoot.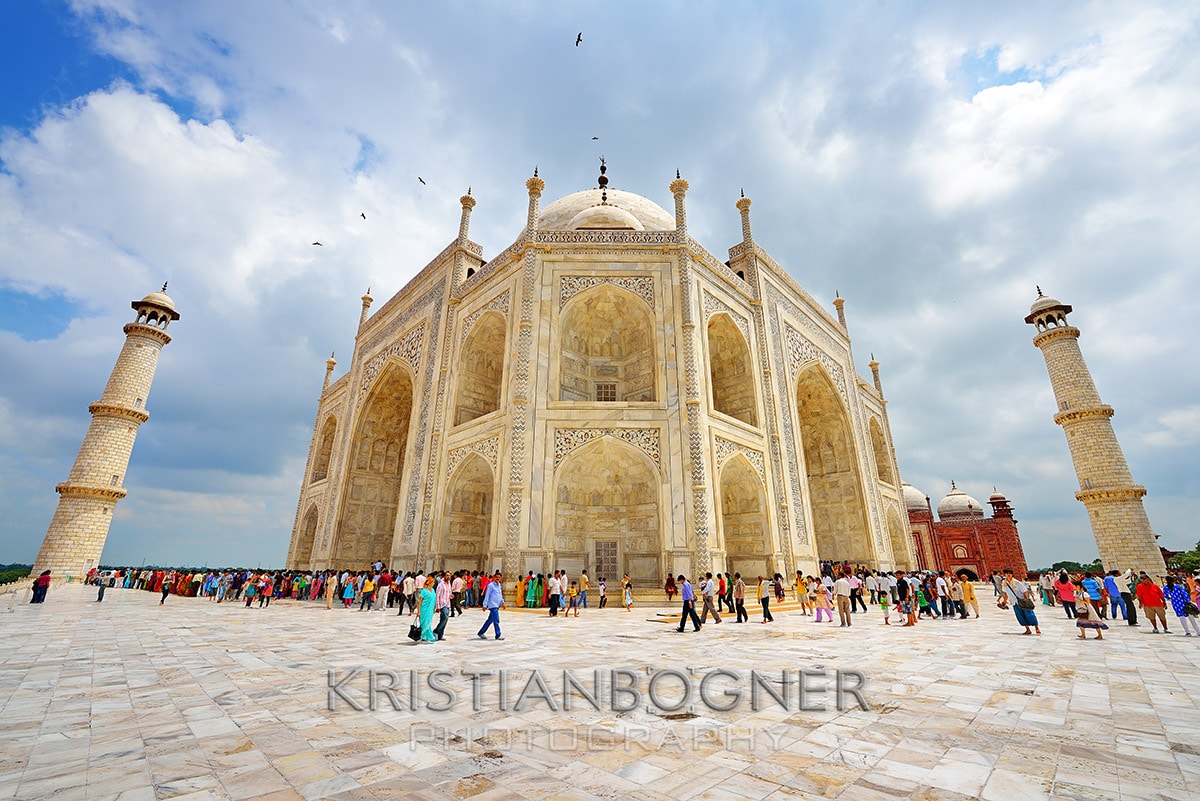 When shooting something amazing I sometimes get very intense on getting a perfect shot. I have even had people say to me that I have been so focused on taking a photo that I missed the moment.  However I believe that when I am looking through the lens, I am just witnessing the moment from the perspective of my camera. In my mind, I am experiencing the moment and creating it at the same time.  Remember, the more energy you devote to creating an image, the better it will be.  Listen to your instincts and trust them, take a few risks and observe the visual rewards that follow.
Finally, take a few moments every night to flip through your images from the day.  Evaluate your exposure, zoom in and check your focus. Make mental notes on what worked and what didn't.  Delete bad images as you go through the files, especially if your storage is limited.  Make sure you put your batteries on charge in the evening, backup your images, and do a quick lens cleaning so you will be good to go for the morning.
Challenge yourself to come back with some exceptional images from your trip.  Think about the people you will share your images with, and let that fuel your passion.